CCE
New 3fficiency brand integrates three HVAC product Lines
Buildings
DOAS
HVAC
IAQ
SEMCO
3fficiency combines the NEUTON controllable chilled beam pump module, the Pinnacle DOAS and SEMCO chilled beams into one engineered system concept.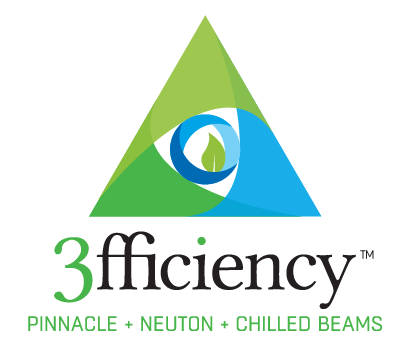 SEMCO has created the 3fficiency brand which promotes an engineered system approach of integrating its three commercial HVAC components–active chilled beams, a dedicated outdoor air system (DOAS) and a controllable chilled beam pump module (CCBPM).
The 3fficiency brand accentuates the fact that engineers can rely on synergy with guaranteed integration when incorporating SEMCO's active chilled beam cooling/heating for indoor air comfort, its Pinnacle DOAS treatment, and pinpoint control with the system's NEUTON anchoring component.
3fficiency is a total IAQ system approach to chilled beam design surpassing the ASHRAE 90.1 energy standard by up to 30%. Thus, 3fficiency is suitable for LEED and other sustainable building programs.
It's also an energy-saving and environmentally-friendly hydronic alternative to variable refrigerant flow (VRF) and other DX-based systems that use refrigerants.
SEMCO's chilled beam experience offers engineers system modeling and application support backed by design compatibility with all major building automation system (BAS) protocols.
Instead of the conventional chilled beam design approach of attempting to manage the entire flow of a system, 3fficiency's NEUTON component micromanages the industry's tightest temperature, airflow and humidity tolerances of a single zone of 10 chilled beams or less, or up to five multiple zones of single chilled beams.
The first 3fficiency application saved the retrofitted Robert D. Campbell Junior High School, Winchester, Ky., $147,000 in labor installation costs versus the VRF technology. The circa 1970's building is also cutting energy costs by an estimated $33,000 annually versus the school's former conventional unit ventilator system, according to the retrofit's performance contractor.
Other 3fficiency features include:
Available for both new construction and retrofit projects;
Doesn't use refrigerants;
Ideal for hospitals, schools, office buildings and other occupied facilities with consistent, manageable humidity, heating and cooling loads;
More efficient by up to 30% than typical VRF systems, based on data compiled by the Air Conditioning, Heating & Refrigeration Institute (AHRI);
Potential for a pinpoint temperature tolerance of ±1°F per zone;
All three components factory-integrated to work together;
And remote monitoring and control through the facility's BAS.