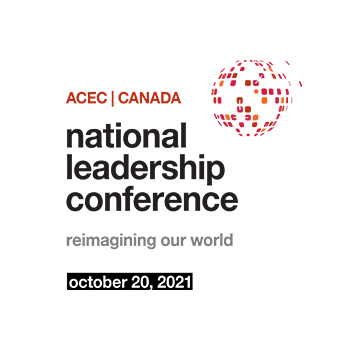 After cancelling last year's edition due to the global pandemic, Ottawa-based ACEC-Canada brought back its annual National Leadership Conference on Oct. 20, as a virtual event. The theme was 'reimagining our world.'
With the worst of the pandemic hopefully behind us, the conference set its sights on the future. Keynote speaker Steven Poloz, special advisor at Osler, kicked things off with a discussion of a wide range of trends, from the challenges of abandoning fossil fuels to the need for firms to offer daycare services to help attract new employees with work-life balance.
"Due to demographics, it's only going to be harder to recruit talent as we go forward," he said.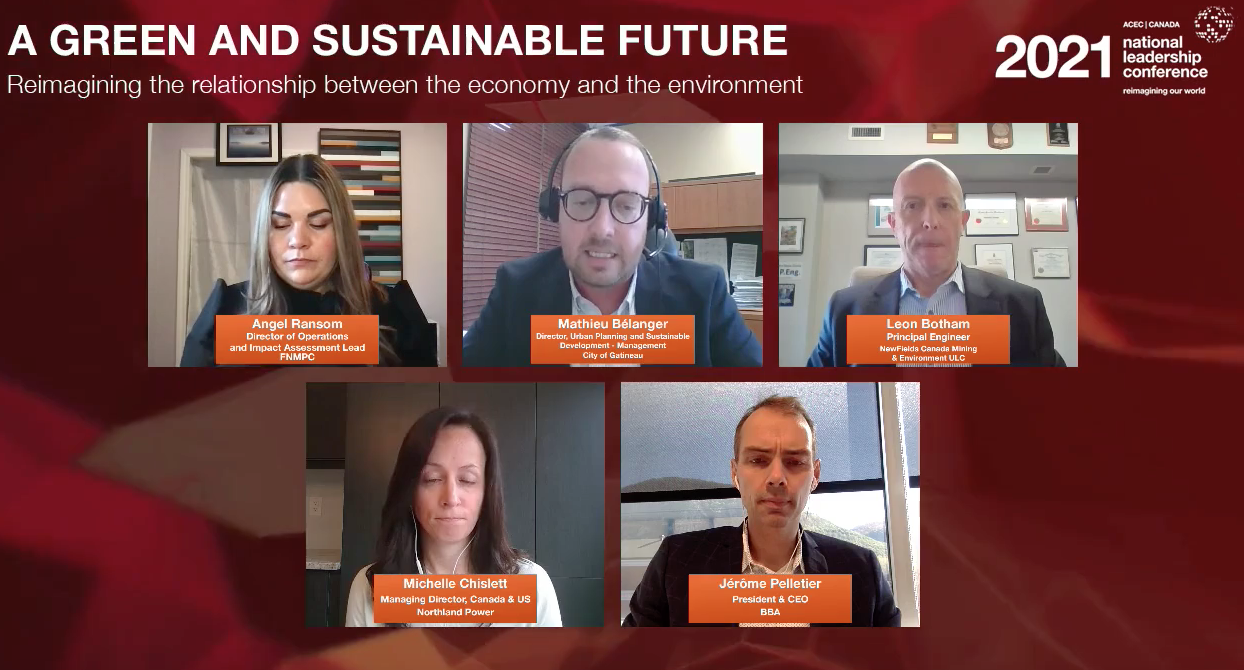 He was followed by the first panel discussion, 'A green and sustainable future: Reimagining the relationship between the economy and the environment,' moderated by Angel Ransom, director of operations and impact assessment lead for the First Nations Major Projects Coalition.
Mathieu Bélanger, director of urban planning and sustainable development for the neighbouring city of Gatineau, Que., described how tools that can better calculate engineering projects' greenhouse gas (GHG) emissions will be a game-changer for the industry.
"Looking at every project through a climate lens will become just a way of doing business, as we move toward a net-zero society," he said. "Canada will also have a responsibility to export this model elsewhere."
Leon Botham, principal engineer for NewFields Canada Mining & Environment, emphasized the need for further nuclear power development to ensure a reliable baseload of carbon-free power, while Michelle Chislett, managing director of Canada and U.S. development for Northland Power, highlighted opportunities to further decarbonize the grid with hydrogen and battery-based storage.
Finally, Jérôme Pelletier, the new president and CEO of BBA, suggested ACEC-Canada itself should serve as a trusted advisor for greening the economy, as its strategic partners are well-positioned to get involved and influence the projects of the future.
The second panel discussion, 'A place for everyone: Reimagining our communities to create a diverse and inclusive society,' was moderated by Nick Schiavo, director of social policy and government relations for Impact Public Affairs.
All of the panelists—including SOAR president Ryan Dunbar, Mott MacDonald rail and transit engineer Katherine Miller, Framework Leadership principal Russell Pollard and Engiqueers Canada founder Vanessa Raquel Raponi—emphasized the importance of early science, technology, engineering and mathematics (STEM) educational outreach to young people in underrepresented communities, followed by meaningful engagement throughout their careers.
"Diverse and more inclusive groups lead to higher employee satisfaction," said Miller. "I challenge business leaders to empower conversations from the top down."
A third and final panel discussion, 'Industry in flux: Reimagining business models for future success,' was moderated by Morrison Hershfield president and CEO (and recent ACEC-Canada chair) Anthony Karakatsanis. This session offered a chance for Karakatsanis' fellow lead executives—WSP Canada's Marie-Claude Dumas, CBCL Group's John Flewelling, Stantec's Gordon Johnston and CIMA+'s François Plourde—to reflect upon pandemic-era challenges as a guide for key improvements to focus on in the years ahead. One of the primary topics of their discussion was human resources (HR).
"Employees expect a safe and stable work environment," said Flewelling. "Over the next two to three years, I foresee challenges in talent retention."
"Young engineers want to work for a firm with a purpose, to make a difference to communities," said Dumas. "Their career path is not so much a ladder as a metro map to broaden their experiences."
Another topic was improving productivity, which Karakatsanis suggested has lagged in the construction industry compared to other fields.
"There are ways we can work with our partners and clients better," Johnston offered.
"Engineering productivity lags when scopes, roles and timelines aren't clarified," said Flewelling. "Bringing constructability experts in early to review designs could help avoid a lot of rework."
"It's a continuous effort related to processes, skill sets and tools," said Plourde. "Most of all, it's a question of doing things the proper way the first time."
The closing keynote was presented by CBC journalist Anna Maria Tremonti, who reflected upon past challenges faced by women in her profession and in engineering alike.
ACEC reports the virtual event drew more than 150 attendees. Next year's conference is expected to return as an in-person event in Ottawa. Stay tuned for details.