YORK introduces next gen chiller
January 3, 2018
By CCE
The new YORK YZ Magnetic Bearing Centrifugal Chiller is the first chiller optimized for new low-global warming potential refrigerant—R-1233zd(E).
Johnson Controls has introduced the new YORK YZ Magnetic Bearing Centrifugal Chiller, the first chiller fully optimized for performance with a next generation low-global warming potential (GWP) refrigerant—R-1233zd(E).
Chosen for its efficiency, safety, availability, low environmental impact and cost, nonflammable R-1233zd(E) has an ultra-low GWP of 1 and is readily available from refrigerant manufacturers.
"With the new YORK YZ, we have engineered the world's most efficient low-GWP line of centrifugal chillers," said Laura Wand, vice president, Chiller Solutions, Building Technologies & Solutions at Johnson Controls, in a  company release.
Johnson Controls used a holistic approach to system design and engineering, optimizing every component around the next generation refrigerant for ultimate performance
The YORK YZ chiller uses a variable speed drive and advanced magnetic bearing technology that features a single moving assembly suspended in a magnetic field that does not require lubrication. This technology requires 80% fewer moving parts than traditional oil- or refrigerant-lubricated drivelines. The result is enhanced reliability, reduced maintenance and improved efficiency. Compared to traditional fixed-speed oil-bearing chillers, the YZ delivers up to 35% annual energy savings.
The YZ chiller can deliver significant energy savings and lower operating costs by taking advantage of the off-design conditions where chillers operate 99% of the time.
The YZ operates with entering condenser water temperature as low as 40°F (4.5°C), providing enhanced performance in every operating condition and the widest operating envelope in the industry.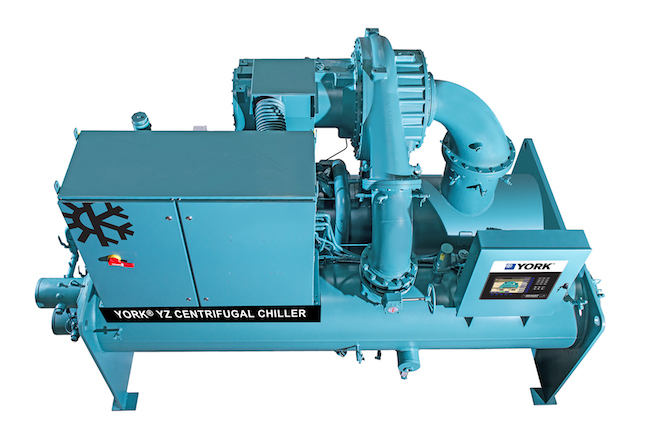 The YORK YZ uses an optimized single stage design to provide energy efficiency. The chiller can also operate with condenser temperatures below the evaporator temperatures, eliminating the need for a water-side economizer, which simplifies the system, requires less mechanical room space and saves money on components, piping, controls and maintenance.