By CCE
TOA Canada releases next-gen digital mixer amplifier
Buildings
Control and monitoring can be handled from a web browser.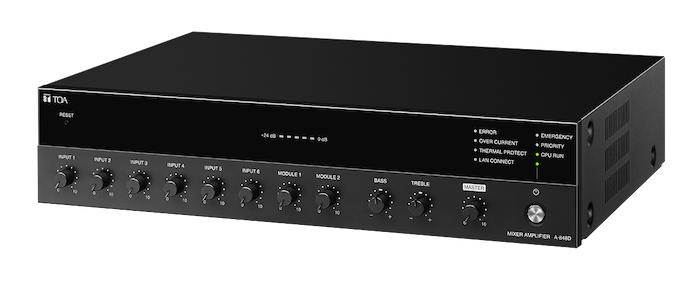 Commercial audio and security equipment manufacturer and distributor TOA Canada has updated its A-700 series amplifiers with the new A-800D digital mixer amplifier series for paging, noise masking and music applications.
The new mixer amplifiers support up to eight inputs, two 900-series modules and either 120, 240 or 480 W of power, with web-browser-based remote control and monitoring to facilitate troubleshooting and system adjustments.
The devices can integrate with TOA's VM-3000 emergency voice announcement system to accept emergency calls, mute or override local sound and broadcast announcements accordingly. They are compatible with the SP-11N Voice over Internet Protocol (VoIP) phone paging module, the NM-1 noise masking module and the WTU-M9800 AM wireless microphone receiver module.