CCE
LG releases MULTI V5 VRF in Canada
Buildings
VRF
Its heat operating range reaches -30°C to withstand Canadian seasonality.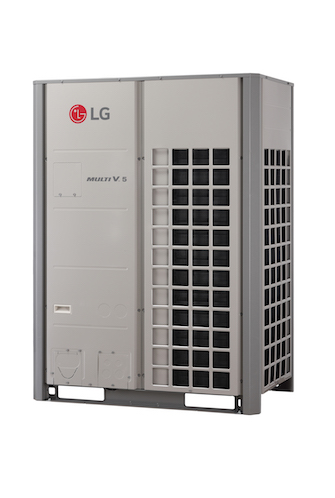 LG Electronics has added to its MULTI V VRF line with a new model (V 5) that pushes boundaries for variable refrigerant flow (VRF) efficiency.
"In 2015 LG was the first company to produce the VRF Air Cooled 575V for Canada," said Denis Murphy, vice president of Air Conditioning at LG Electronics Canada. "The launch of the Multi V 5 575V in Canada showcases LG Canada's unparalleled commitment to providing cutting-edge technology to the Canadian market, along with the tools and resources to deliver a complete solution to our architect, engineer and contractor partners."
The Multi V 5 is available from 6- to 42-tons, with a choice of three-phase 208/230V, 460V or 575V electrical power as heat recovery/heat pump outdoor units.
Its heat operating range reaches -30°C to withstand Canadian seasonality. New to the Multi V line-up are the single frame 16-, 18-, and 20-ton units; the 20-ton unit representing the largest tonnage in the smallest, single frame footprint on the market today. As a smaller and lighter solution, the Multi V 5 20-ton not only reduces footprint requirements, but also helps to reduce installation costs.
While the footprint of the Multi V 5 is reduced, its performance has increased. The Multi V 5 features Advanced Smart Load Control that proactively addresses the impact of pending weather changes by recognizing sensible and latent heat to ensure optimal comfort for all building occupants. The Multi V 5 also features LG Intelligent Heating technology that defrosts as needed rather than responding once frost has reached a preset point.
On top of active response capabilities, the Multi V 5 also features a new biomimetic fan design that draws from nature's design and enables the unit to operate more efficiently and increase airflow while reducing the perceived noise level by approximately 20%.
Additional features include:
Dual Sensing Control: helps the air conditioning unit evaluate climate conditions down to the smallest detail. Unlike conventional VRF air conditioners which only track temperature, the Multi V 5 measures both temperature and humidity levels for outdoor and indoor environments. This comprehensive understanding of Multiple climate conditions helps the solution determine its parameters to achieve optimal energy efficiency and maximum indoor comfort levels.
Ultimate Inverter Compressor: offers efficiency, reliability and durability. Improving on the 15 to 150 Hz operational range of its predecessor, it operates from 10 Hz to 165 Hz. This widened range increases part load efficiency and enhances the Multi V 5's ability to maintain the desired temperature. The Multi V 5 features an enhanced bearing system layered with PEEK (Polyetheretherketone) – an advanced material normally used in airplane engines – this efficient infrastructure allows the Multi V 5 to operate for sustained periods in low oil conditions. In addition, the Multi V 5's Smart Oil Management uses sensors to check the compressor's oil balance in real time, minimizing unnecessary oil recovery operation.
Large Capacity ODU: with a biomimetic fan, 4-sided heat exchanger, and improved compressor performance, the Multi V 5's efficiency and capacity have each been enhanced, making it possible for a single ODU to reach 20 TON. Utilizing research from the Seoul National University's Department of Mechanical and Aerospace Engineering, the engineers behind the Multi V 5 drew on inspiration from humpback whale flippers when designing the fan. Moreover, the solution's advanced biomimetic fan significantly increases wind capacity.