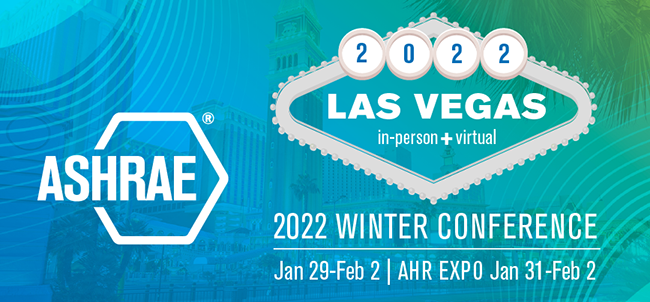 After taking a year off during the COVID-19 pandemic, the ASHRAE Winter Conference and the Air-Conditioning, Heating, Refrigerating Exposition (AHR Expo) returned as in-person events last week in Las Vegas, Nev.
ASHRAE
ASHRAE gathered more than 2,800 industry professionals, building systems engineers, contractors, architects and students at Caesars Palace from Jan. 29 to Feb. 2. (Registered conference attendees got to enter AHR, too.)
"While the numbers are expectedly lower than past conferences, in-person attendance still exceeded our expectations," says 2021-22 society president Mick Schwedler, "and our virtual attendees added a welcome dynamic to our sessions."
The society's first-ever 'hybrid' winter conference featured more than 50 technical sessions, executive updates, tours, social events and livestreamed sessions for virtual attendees.
It was ASHRAE's first 'hybrid' winter conference.
One of the most popular sessions was 'HVAC Design, Control and Operation of Hospitals After COVID-19 Fiasco.' Timothy Jacoby, corporate vice-president (VP) of facilities design for Scripps Health, outlined ASHRAE's position document's nine strategies for further reducing airborne infections in health-care facilities:
Dilution ventilation
Temperature and humidity control.
Personalized ventilation.
Local exhaust.
Central system filtration.
Upper-room ultraviolet germicidal irradiation (UVGI).
Duct and air-handling UVGI.
In-room flow regimes.
Differential pressurization.
"I'm a huge fan of natural ventilation, when you can open the windows," he said. "It reduces energy consumption."
Another session focused on dental clinics, as dentists have reportedly faced greater COVID-19 exposure risk than almost anyone else, including paramedics, nurses, child-care workers and flight attendants.
"A dentist sees far more patients in a day than a surgeon does," said presenter Dr. David Ahearn, founder of Design Ergonomics. "With an understanding of aerosol patterns using computational fluid dynamics (CFD), we can control most of the probability of infection at the source."
The society honoured its Epidemic Task Force.
The conference also afforded an opportunity to recognize ASHRAE members' outstanding achievements. In a particularly timely example, the Presidential Certificate of Honor was awarded to ASHRAE's Epidemic Task Force.
Two Canadians—Robert Bean, president of Indoor Climate Consultants, and Tim McGinn, P.Eng., principal of McGinn Technical Services, both based in Calgary—were among those elevated to the grade of Fellow, a grade that recognizes distinction in and contributions to industry education, research, mentoring, etc.
In a student design competition, which imagined the HVAC needs of a new 50,000-sf post-secondary campus building in Prince George, B.C., first place in the HVAC design calculations category went to University of British Columbia (UBC) team members Brandon Jung, Arin Lee, Lukengo Miguel, Kyle Vanderhorst and Taewoong (Jeff) Yoon.
The Young Engineer in ASHRAE (YEA) Inspirational Leader Award went to Toronto-based Badri Patel, commercial market account executive for Johnson Controls Canada.
(And speaking of Toronto, that's where ASHRAE's Annual Conference is set to be held, from June 25 to 29.)
AHR Expo
AHR took place at the Las Vegas Convention Center from Jan. 31 to Feb. 2, drawing 30,678 attendees and 1,573 exhibitors across 443,769 sf of exhibit space in two halls. Exhibitors included manufacturers of heating, cooling, ventilation, building automation, plumbing, refrigeration and indoor air quality (IAQ) systems.
Infinitum Electric introduced a line of air-core motors purpose-built for the Canadian HVAC market. Using a printed circuit board (PCB), the smaller, lighter and quieter motors promise to make fan and pump systems more energy-efficient and easier to ship, install and service.
"We launched our 460-V version in the U.S. in 2020," explained Bhavanesh Patel, Infinitum's vice-president (VP) of business development, "then saw the need for a Canadian 575-V version. We're now working with Canadian companies to ensure general availability this year."
Toronto-headquartered Armstrong Fluid Technology showcased design envelope permanent magnet pumps engineered to reduce operating costs by 20% compared to variable-speed pumps with standard induction motors.
"With better performance at higher revolutions per minute (RPMs), in some cases a smaller pump can deliver the same flow and pressure as a larger, more expensive model," said offering manager David Lee, who was also a presenter at ASHRAE. "Permanent-magnet motors offer s substantial reduction in both size and weight."
The aforementioned Johnson Controls was also at the show. Its commercial ducted systems business unit featured a 15-ton rooftop unit (RTU) with a heat pump feature.
"The commercial HVAC business slowly improved through 2021, starting with smaller RTUs and progressing to larger units," explained Philip Smyth, the company's executive director of commercial product management. "Electrification will continue to drive ducted split heat pumps, as well as controls technology."
Speaking of controls, Samsung HVAC America used the expo to announce it is working with Honeywell on new advanced control solutions. Expected to launch later this year, they will feature a Niagara Framework driver to communicate to Samsung's heating and cooling equipment using Honeywell's CIPer Model 50 controller.
Finally, Danfoss won a Product of the Year award for its Turbocor VTCA400 compressor, reportedly the world's first oil-free, variable-speed, magnetic bearing centrifugal compressor with a hybrid design for use with R-1233zd, a refrigerant with low global warming potential (GWP).
Next year, both the AHR Expo and ASHRAE Winter Conference will head to Atlanta, Ga. Stay tuned for further details.